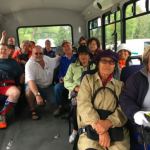 Renfrew-Collingwood (Better at Home) Seniors Shuttle. Click here for more information.
Through Collingwood Neighbourhood House- 5288 Joyce St. Vancouver
For seniors (55+) living in Renfrew-Collingwood.
Seniors Shuttle service offered Tuesdays, Wednesdays and Fridays 9:00a.m. – 3p.m. Rates are based on a sliding scale, based on income.
To register or for more information phone: 604.435.0375 or Email: ahofmarks@cnh.bc.ca
Collingwood Neighbourhood House Society – Received $150,000 to purchase a new bus to drive seniors to appointments, social visits and outings.
=========================================================================
The Ministry of Health is supporting improved transportation for seniors to help them maintain meaningful social connections and independence in their local communities.
"Lack of access to transportation can increase social isolation, undermine an individual's ability to complete daily activities ranging from grocery shopping, health appointments and engaging in community programs that improve mental and physical well-being. That's why we are taking steps to resolve this barrier," said Adrian Dix, Minister of Health. "This announcement is the first of several steps to support and enhance the work non-profit organizations do to help seniors live better, healthier lives in community. This reflects Premier John Horgan's strong commitment to seniors in B.C."
The Province is providing approximately $1.23 million through regional health authorities to 13 community organizations throughout British Columbia for projects that improve transportation services for seniors.
Community groups will purchase 12 buses and vans and make other improvements to existing transportation services for seniors to help them age in place, stay physically active and socially engaged.
"Seniors are the hearts of our communities and they deserve to get the support they need to live the healthiest lives possible," said Anne Kang, Parliamentary Secretary for Seniors and Multiculturalism. "By increasing transportation options within the community, seniors will better be able to live independent lives and stay physically and socially active."
In the coming weeks, the Ministry of Health will announce further supports for seniors throughout all health authorities. For example, Northern Health is providing $300,000 to three community organizations for new programs that improve access to healthy foods, social connections and recreation activities in Dawson Creek, Prince George and Smithers.
Supporting seniors' transportation and social programs is part of government's commitment to strengthen the supports and services available to seniors. Government is investing $1.018 billion over three years to improve care for seniors, including investments in primary care, home health, long-term care and assisted living. This includes $75 million over the next three years to expand respite care and adult day programs and $240 million over three years to increase staffing levels in long-term care homes, with the goal of achieving 3.36 direct care hours per resident day – on average – across all health authorities by the end of 2020-21.