March 25, 2021
Future Voters List
BC recently created the List of Future Voters.  Sign up now so you are ready to vote when you turn 18.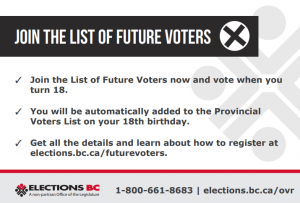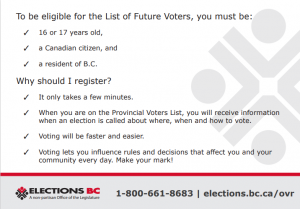 One of the best ways young people can become lifelong voters is by voting in their first election. We also know that young people are more likely to vote if they are already registered.
That is why the List of Future Voters is so important.
It was created in 2019 through changes to B.C.'s Election Act. Anyone who is 16 or 17 years old, a resident of B.C., and a Canadian citizen can sign up so they are automatically registered to vote when they turn 18. Once registered, they will receive important information from Elections BC about where, when and how to vote when a provincial election is called.
Register as a future voter online
For more information, email voterservices@elections.bc.ca or click HERE